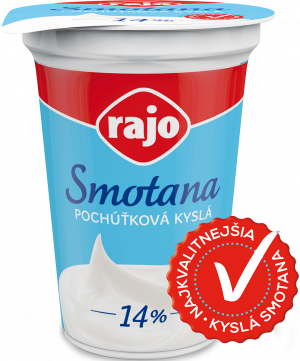 Independent consumer research confirmed the premium quality of Rajo traditional sour cream. Therefore, its delicious taste should not be missing from your table.
For the correct result, use cream cooled to 2 - 6 ° C and a fat content of at least 30%. Quality cream should be whipped to up to double the volume in roughly 1 - 2 minutes, and at room temperature of 20 - 24 ° C it will retain its shape for about 2 hours.
Cream
Choose from a wide selection cooking, whipping or sour cream and enjoy the taste. You'll also find lactose-free cream available.
See all products